Nearly every water source in Haiti – rivers, streams, springs and wells – is contaminated with human waste and disease. There are no public sewage treatment or disposal systems anywhere in the country – even in the large cities. The result is a tragedy.


Haiti today has the highest infant and child mortality in the Western Hemisphere, and perhaps the world. The leading killer of Haitian children is waterborne disease – cholera, typhoid, hepatitis, and chronic diarrhea – all carried in water used for drinking and cooking. One study lists Haiti as having the most contaminated water in the world.
Even the children who survive waterborne diseases can suffer permanent damage, mental and physical. Repeatedly sick during childhood, these children miss vital schooling and fall behind in every way. They become a burden instead of an asset for Haitian society.
Since May 2006 in Port-au-Prince, Haiti, International Action — a small non-profit based in Washington DC — is installing the first practical system for chlorinating city water supplies in developing countries.
The special tablet chlorinators require no electricity, but operate on the gravity flow of water from city or village water sources. They are simple to install, easy to operate, and trouble-free to maintain. They are very effective in developing countries like Haiti. The chlorinators provide a steady, pre-set level of chlorination which persists in the water for many days. This provides dependable protection against the disease-causing bacteria common in the buckets, home storage tanks, and local piping in poor countries.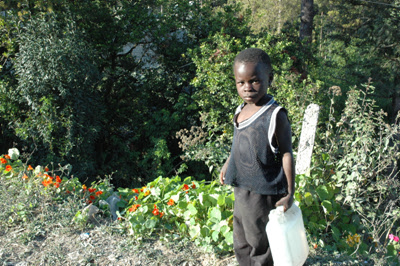 Under an important population pressure due to rural exodus, the water system of Port-au-Prince is breaking down. To serve their new residents, many neighborhoods have constructed local water tank towers. International Action's chlorinators work very well in these decentralized neighborhood tanks and water stations, and are installed on top of water tanks or reservoirs.
International Action is creating a safe water system – neighborhood by neighborhood, tank-by-tank – for a city of more than two and a half million people. Today, over 110 of those systems provide over 400,000 Haitians, most children, with clean drinking water. It's amazing how one can impact the lives of so many people in so little time!