As parents, we all take cues from mom and dad in the rearing of our own children. But can we improve as parents based...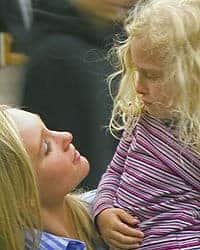 Even in couples most likely to believe in sharing parenting responsibilities, mothers still bear significantly more of the child care load, a new study...
Men with smaller testes than others are more likely to be involved in hands-on care of their toddlers, finds a new study by anthropologists...
Many American parents yell or shout at their teenagers. A new longitudinal study has found that using such harsh verbal discipline in early adolescence...
Babies have an innate biological need to be attached to caregivers, usually their parents. But what happens when babies spend a night or more...
Children of divorced parents who are separated from one parent due to the custodial or non-custodial parent moving beyond an hour's drive from the other parent are significantly less well off on many child mental and physical health measures compared to those children whose parents don't relocate after divorce, according to new research. The findings, say the study authors, cast doubt on the current legal presumption that a move by a custodial parent to a destination that the moving parent believes will improve his or her life will also be in the best interest of the children that moves with them.